FDNY celebrated the valor of its members during Medal Day 2011, which took place at the Intrepid Sea, Air and Space Museum on June 8.
"This is one of the most wonderful days of the year," said Mayor Michael Bloomberg. "We're celebrating those who put themselves in harms way to protect others."
The event honored eight fire officers, one EMS officer, one fire marshal, 27 firefighters, two paramedics, seven emergency medical technicians and four fire companies.
Members of Engine 54 and Ladder 4 received the 2011 World Trade Center Memorial Medal for their response to the would-be Times Square car bomb on May 1, 2010. Learn more
This year's James Gordon Bennett Medal winner, the highest honor for a member of the Fire Service, was Firefighter Peter Demontreux from Ladder 132. He saved two victims from a burning brownstone in Brooklyn on Aug. 30, 2010. Learn more
From the NYC.GOV FDNY Site Posting from 2010 (HERE)
Firefighters Rescue Three from Dramatic Early Morning Fire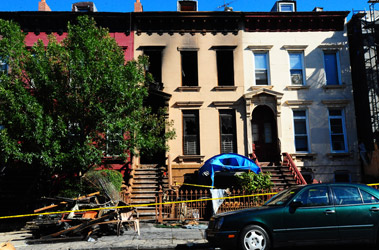 The brownstone at 175 Putnam Ave. in Bedford-Stuyvesant, Brooklyn, where three people were rescued by FDNY firefighters on Aug. 30.
In a series of dramatic early morning rescues Aug. 30 in Brooklyn's Bedford-Stuyvesant neighborhood, firefighters pulled several residents from the top floors of a burning brownstone, with one firefighter walking through flames and suffering second-degree burns to help someone trapped inside.
"We walked through a room that was engulfed in fire," said Firefighter Peter Demontreux of Ladder 132, recalling how he helped a civilian to safety. "We were on fire."
The fire broke out shortly before 4:30 a.m. at 175 Putnam Ave. and quickly escalated to a second-alarm.
Firefighter Demontreux, who was assigned to the Outside Vent position, immediately climbed up the aerial ladder upon arrival to rescue a man hanging from the third-floor front window, who told him that there was another person still inside.
He donned his mask and went inside to begin his search, but thick black smoke made it impossible to see.  He returned to the window, where Firefighter Richard Myers of Rescue 2 offered to begin breaking out windows on the third floor to increase visibility. 
Demontreux went back in.
"I heard a man at the back and searched along the wall, following it to the rear, where I found the second occupant hanging out the back window trying to breathe," Firefighter Demontreux said.

FF Richard Myers of Rescue 2, Deputy Chief Robert Strong of Division 11, FF Peter Demontreux of Ladder 132 and FF Charles Dodenhoff of Rescue 2.
Helping the man along toward the front of the building, they passed through a room now fully involved, but knew it was their only means left of escape.
"I just wanted to get out of there as fast as possible," Firefighter Demontreux said.
Outside of the building, with Firefighter Demontreux gone for several minutes as flames intensified inside, Firefighter Myers feared the worst.  "I was about to give an urgent, a mayday," he said. "All of a sudden there's Pete, running out and he and the civilian are on fire."
Firefighters with a charged hoseline down below quickly turned the water on Firefighter Demontreux and the victim, putting out the flames on their clothes and bodies.
"I thought Pete was dead," Firefighter Myers said. "Incredible, just incredible job that he did."
Members of Rescue 2 also performed heroically, using a life-saving rope to rescue a man from the third floor of the building.  Firefighter Charlie Dodenhoff used the rope to pull a man out of a third floor window.
In all, four firefighters were injured in the fire, with Firefighter Demontreux suffering burns on his face and back.  He was treated and released from an area hospital Monday.  Three civilians also suffered critical injuries and were taken to area hospitals.
Fire marshals are still investigating the cause of the fire, but it is considered suspicious.
FDNY Medal Day 2011 Booklet  FDNY Medal Day 2011 Book Final June 8 2011